Main Topics:
Purpose of the Group:





Members of the Group:





Minutes/Agendas of the Meetings:


Agenda of the next meeting.... (yet to be announced)

Meeting Minutes



Working Groups:


Networking


Types of Packet Networking
NetROM/X1J4/K-net deploymet statagies

Hamgate SysOps


What is a "Hamgate"
What are the responsibilities of the SysOp
Maintenance, care and feeding of a HG
Recommended JNOS configs
Recommended HamGate configs

Frequency Coordination


Packet Frequency Bandplan

Operational Standards


Packet Frequency Bandplan
Recommended SSID assignments
Node Identifiers (function.location)
Three-Letter County Abbreviations
and CONVerse county number assignments
Recommended NetROM configs
Recommended JNOS configs
Recommended HamGate configs

Training


Upcoming Training dates/locations
Past training presentations

D-Star


Known D-Star frequencies
Known APCO25 (P25) frequencies
Known DMR/MotoTrbo frequencies
Weblinks/Resources




Maps & Databases:





Regularly Scheduled NETS:


CONVerse-41 - Saturdays @8pm Channel 41
General Chit-Chat and Rag-Chew. Oftentimes about Packet but can be on ANY subject.
CONVerse-41 - Sundays @8pm Channel 41
A synopsis and discussion of the material passed on the earlier Michigan State ARPSC net held earlier (5pm) on 3932 KHz
L'Anse Creuse ARC - Tuesdays @8pm Channel 80
General Chit-Chat and Rag-Chew. Everyone welcome!
====================
Log onto any Hamgate or JNOS Node and at the Alphabet-Soup prompt simply type CONV. Once on the CONVerse bridge, use the /c command to change to the desired channel (/c 41).




Typical CONVerse Channel Number Usage:


CONVerse-411 - General Statewide Information
Channel 411 is typically used for the sharing of information of interest to a wide audience, such as multiple counties or Districts during Skywarn activations and/or widespread severe weather such as ice storms or flooding.
CONVerse-911 - Emergency Activations
Used during Emergency activations that involve two or more counties (as opposed to just using the County channel number of the county initiating the activation). 911 is also used in statewide drills, exercises and emergencies when the State EOC (SEOC) is activated. S.E.T. exercises oftentimes use 911 for statewide sharing or bulletins and other QST information.
District Channels - District-wide Communications
Channels 111, 222, 333, 555, 666, 777, 888 are used each for their respective Districts when all counties within said District are involved. These channels may be used for District-wide nets, training, and conferences.
====================
Log onto any Hamgate or JNOS Node and at the Alphabet-Soup prompt simply type CONV. Once on the CONVerse bridge, use the /c command to change to the desired channel (/c 911).




How can I get involved?





Website tools:


Private Area (requires password) for select DRG Members only

Usefull Resources:
Packet Tutorials and Training Resources:

The ARRL Michigan Section Digital Radio Group (DRG) was created in 2004 in an effort to coordinate the creation of a dependable Packet Radio network across the entire state of Michigan primarily for use by the general Amateur community, and secondarily for emergency communications. The Digital Radio Group consists of a number of Michigan Section ARRL Staff along with two representatives from each of 7 state districts and meets at least four times annually to discuss technical issues, develop network topologies, and resolve any problems in the deployment of a flexible and reconfigurable digital network that can be depended upon in times of emergency.

Use of this network by the Amateur community on a day-to-day basis is requested and encouraged! What better way to assure that a network will work when it is needed, than to submit it to everyday use. And everyday use means that a larger pool of equipped, knowledgeable, and trained operators are available to step forward should they be needed to provide emergency communications. So dust off those old TNC's! We want to see you on the air! We want to see the network put through its paces. We want your input regarding how the network develops. And most of all we want your participation!

The networks being deployed consist of a mixture of both old and new technologies using the AX.25, NetROM/X1J4/K-net, and TCP/IP protocols. Some networks branch off into HSMM-Mesh (WiFi) metropolitan networksi, and some even ride over the top of WISP (Wireless Internet Service Provider) networks. By using whatever technologies are available to us assures that each district can deploy the technology that works best for their particular needs. What works best in one part of the state may not be the right solution for another. Our ultimate goal is to move bits from Point-A to Point-B by whatever means we can, including the use of the Internet where Terrestrial RF paths may not yet be available.

The DRG asks for input from as many sources as possible. So please contact your District Representative with your ideas, concerns, or offers of assistance, and come join us in the Packet (re)Revolution!

---
The next meeting of the Digital Radio Group will be held on date yet to be determined in location to be determined, Michigan. Meetings are attended by any of the Michigan Section Staff and two representatives from each State District (as appointed by that district's DEC). Meetings are NOT open to the public, however, non-members may be asked to attend by invitation for the purpose of presenting specific information or training to the DRG membership.

DRG meetings are not closed in an effort to hide anything. They are closed in an effort to control the meeting size, as too large a group leads to too many distractions and less work gets accomplished. DRG quarterly meetings are NOT the venue for new users to attend to ask questions like "What is Packet?", or "How do I hook up my TNC?". These meetings are attended by the movers-and-shakers that build out the networks YOU use. The agendas are oftentimes filled to capacity for the 3 to 4 hour long meeting, and we MUST stay on track and on topic else we waste precious time. But please feel free to contact your District Representative for further information about getting started in Packet Radio and TCP/IP or NetROM networking, or check the resources here on this website. Your DRG Representative should also be able to direct you to the nearest Packet Training seminar or presentation at a nearby radio club. And feel free to ask him/her if they would be willing to provide such a presentation at YOUR club! Afterall, that IS what your DRG Representative is there for. To represent and support you!
Agendas to upcoming meetings as well as the minutes of past meetings will be posted on this website as well as on the Michigan ARRL Section website.
Working Groups and sub-committees are encouraged to involve as many interested persons, whether ARRL members or not, to participate in such meetings. The Chairperson of each committee shall decide how large or small his or her Working Group shall be, how often it shall meet, and how work or tasks will be delegated within the group. Each WG then reports back to the DRG at the quarterly meetings.
---
We are looking for volunteers to sit on the following Working Groups: Networking - Frequency Coordination - Operational Standards - Training. If you would like to serve on one or more of these groups, please send an email to your DRG District Representative letting them know how you would like to participate.
---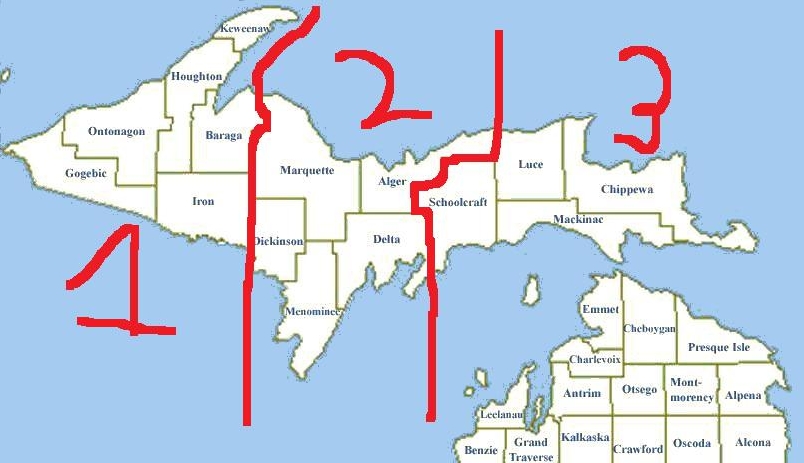 Zone 1 Zone 2 Zone 3
44.102.220/24 44.102.221/24 44.102.222/24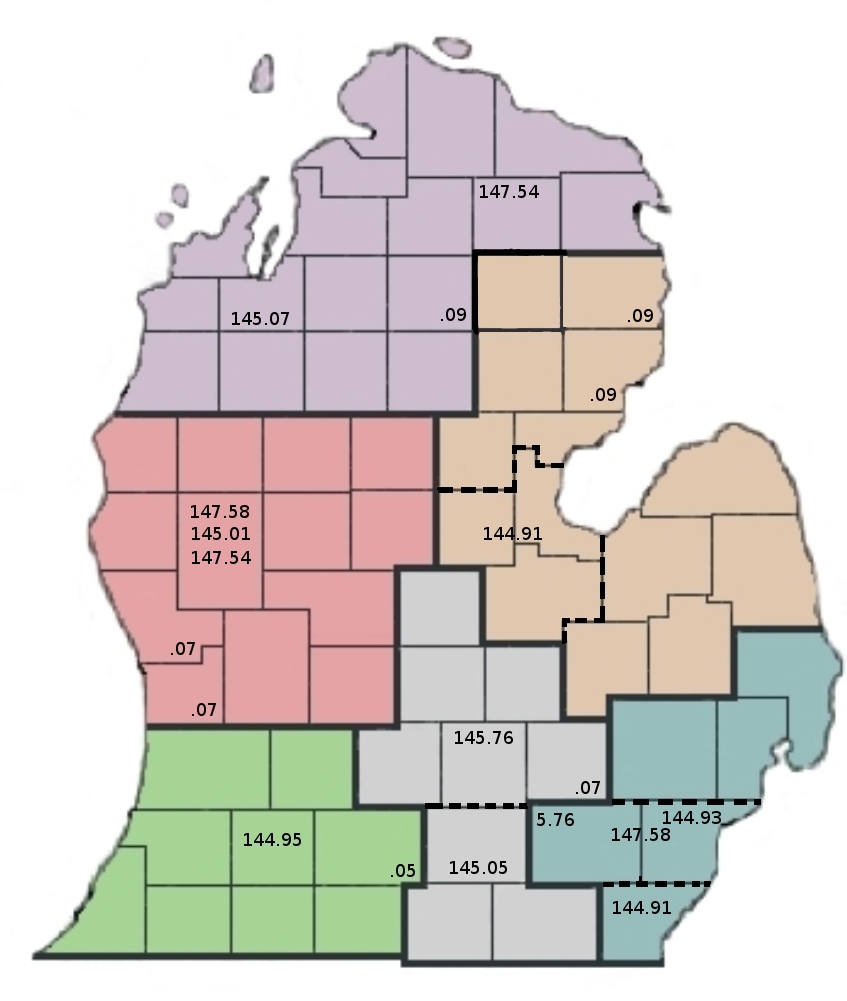 The only MARC protected Packet Frequencies on 2-meters are as follows:
         144.91  144.93  144.95  144.97  144.99
         145.01  145.03  145.05  145.07  145.09
         147.54  147.56  147.58

Local Access Frequencies by District

(click on the image to see the announcement sent to the DRG list)
---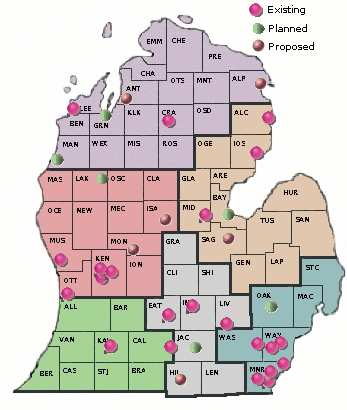 See chart at the bottom of this page for further information about each Hamgate. There you will find clickable links allowing you to Telnet to each Hamgate and gain access to the Network.
Interresting sites around the U.S. and the world you can reach through the Michigan AMPRnet network
Just type 't hostname_shown_below' from the Alphabet-Soup prompt
wmass - Western Massacusetts (Springfield, MA)
Use 'CONV' to reach the Worldwide CONVerse Bridge
w9da - Carol Stream, IL (near Chicago, IL)
*HUGH* number of NetROM routes all over the World!
wa7v - Walla Walla, Washington
TELPAC access to the SanDiego CMS
hamgate.ve7sfu - Vancouver, Canada
Access to the Worldwide FLEXnet network
CALLbook Server
port.ve3mch - Hamilton, Ontario (near Niagra Falls)
(not alot unless you register with the sysop)
kd4yal - Clearwater, FL
Type 'LB' to list email Bulletins ... 'R msg#' to Read them